The EDV-4000 is the first home/office dehumidifier to use innovative rotary desiccant technology to provide high volume dehumidification without requiring a compressor. This energy efficient dehumidifier is safer than compressor-based systems and designed for low maintenance operation, with a high capacity water catch basin that requires only periodic emptying. Also includes a built-in ionizer and bacteria-killing filter to improve air quality, if needed.
The Eva-Dry 4000 desiccant dehumidifier is designed for medium to larger spaces of up to 4000 cubic feet, including:
Large closets: Eva-Dry prevents damage to fabrics and musty odors caused by excess moisture.
Bedrooms and Baths: Absorbs musty odors, and prevents damage caused by excess moisture that can accumulate.
Cabins: Keeps the air dry, helping to inhibit mold growth. Ideal for cabins and vacation homes on or near the water.
Large RVs and boats: Protect your investment from excess humidity and harmful mold. Helps keep allergens down in areas prone to high humidity.
Basements: Keeps basements dry and humidity-free, alleviating condensation build up and dripping.
Offices: Protects hardwood floors from moisture and mildew damage.

Desiccant Dehumidifiers are unique because they work very well in temperatures below 20 C, are quieter, and work well at any humidity level.
For a comparison to rotary desiccant dehumidifiers to compressor-based dehumidifiers, click here.
EDV-4000 Rotary Desiccant Dehumidifier Specifications:
Operating temperature range: 34°F – 104°F
Moisture removal: 7 liters/day (at 68°F; relative humidity 60%)
Water tank capacity: 2 liters
Power: High 615W, Low 330W
Voltage: 120V; 60Hz
Amperage: High Speed: 5.15 AMPS; Low Speed: 2.76 AMPS
Net weight 13.5 lbs
Gross weight 15.5 lbs
Product size: 18″H x 11.5″W x 7″D
Features
Compressorless dehumidifier uses desiccant rotor technology to remove moisture from the air
Environmentally friendly with no harmful gasses
Quiet operation: 34db at low fan speed; 51db at high fan speed
Special silver coating within the filter kills bacteria on contact, improving the quality of air in your home or office
Built-in ionizer
Built-in humidistat
Continuous drain capability: 12mm (15/32") inner diameter hose (not supplied). For drain hose hookup instructions click here.
Dryer mode and electronic louvers can be used to direct warm air to dry clothes, rugs, coats and more; ideal for laundry rooms and mud rooms
Dryer mode includes power saving setting for summer use and turbo setting for winter
Up to 8 hour timer for added convenience
Light and portable with carry handle: only 13 lbs. (as compared to compressor models that weigh over 20 lbs.)
Removable water bucket with handle
Operating light
Auto restart after power cut. Once the power is restored after a power failure, the appliance will continue to operate at the selected settings.
Our Eva-Dry Promise:
Protect your large spaces with the EDV-4000 Rotary Desiccant Dehumidifier. Eliminate moisture and enjoy dry, healthy spaces! Contact our customer service team if you have any issues, questions, or concerns with your desiccant drying equipment.
Product Support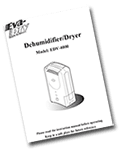 Download the operations manual for the EDV-4000
For instructions on fitting the unit with a drain hose, click here.